Kilar for County Commissioner District #1
As a longtime property owner in Doyle Township, I have become concerned about some of the decisions made by our current County Commissioner. Therefore, I am seeking the position of Schoolcraft County Commissioner District# 1.
I believe that I have the experience and ability to provide the new and fresh leadership that will be needed in the coming years. The effects of the Covid19 virus coupled with ongoing fiscal difficulties will present our county, townships, businesses and citizens with new challenges. My past public and occupational experiences will allow me to work with both county government and citizens to take on those challenges with a strong voice.
As a commissioner I will represent all the residents of the District while fighting to keep needed services as I work to restore harmony to our Commission. Currently, I am in my second term as a Trustee of the Manistique Area Schools and serve as the President of the Gulliver Lake Property owners Association. When the current pandemic crisis lessens, I would enjoy meeting with you and your township officers. Of course feel free to contact me if you have any questions at electkilar@gmail.com
How do I get an absent voter
You still have time
Your request for an absent voter ballot must be in writing and can be submitted to your city or township clerk. (For assistance in obtaining the address of your city or township clerk, see  Michigan.gov/Vote) You must request an absent voter ballot by mailing the application, large print application, a letter, a postcard, or a pre-printed application form obtained from your local clerk's office. Requests to have an absent voter ballot mailed to you must be received by your clerk no later than 5 p.m. the Friday before the election.
Once your request is received by the local clerk, your signature on the request will be checked against your voter registration record before a ballot is issued. You must be a registered voter to receive an absent voter ballot. Requests for absent voter ballots are processed immediately. Absent voter ballots may be issued to you at your home address or any address outside of your city or township of residence.
After receiving your absent voter ballot, you have until 8 p.m. on election day to complete the ballot and return it to the clerk's office. Your ballot will not be counted unless your signature is on the return envelope and matches your signature on file. If you received assistance voting the ballot, then the signature of the person who helped you must also be on the return envelope. Only you, a family member or person residing in your household, a mail carrier, or election official is authorized to deliver your signed absent voter ballot to your clerk's office.
A good way to attend your County Commission meeting without leaving home.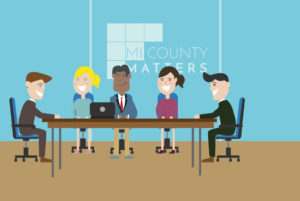 County boards can continue to hold public meetings remotely under the Open Meetings Act due to a new order signed by Gov. Gretchen Whitmer Thursday night. Executive Order 129 extends a previous EO allowing such meetings during the ongoing COVID-19 pandemic to July 31, 2020.
"As we continue our efforts to flatten the curve and prevent a second wave of COVID-19, it's important for public bodies to be able to continue holding meetings and the public to participate in those meetings," Governor Whitmer said in a statement. "By allowing for remote meetings, public bodies and residents can continue practicing safe social distancing while also ensuring meetings remain open, accessible and transparent to the public."
Public bodies must meet the following criteria when holding a public meeting remotely:
Ensure two-way communication for members and the public to hear and address each other when speaking.
Provide adequate notice to the public of the meeting.
Post a public meeting notice on their website.
Permit participants to record or broadcast the public meeting.
Allow participants to address the public body during a public comment period.
To watch the live meeting just go to the County's website and click on the Facebook button.
Senate approves summer property tax deferment bills
Local Governments protected from cash flow problems.
Individuals and businesses are one step closer to delaying their summer 2020 property tax payments to March 1, 2021, without penalty after a two-bill package gained Senate approval this week.
House Bills 5761 and 5810, by Rep. James Lower (R-Ionia), state that entities wishing to delay payments must submit an affidavit to their local tax collecting unit attesting to financial hardship due to the COVID-19 pandemic by Aug. 28, 2020, to qualify. Once a local unit has collected the affidavits, it would submit those to the county for tallying and submission to the Michigan Department of Treasury. Then, it would be incumbent upon the state to borrow enough money to make up for those unpaid taxes for all the taxing units, so locals do not run in to significant cash flow issues during the deferment period.
Locals would gain spending flexibility on roads under House bills
Local road agencies could reallocate their share of state road funding dollars to the roads they determine need it the most under two bills approved by the House this week.
Current law dictates that 75% percent of the money must be spent on primary roads, leaving only 25 percent for secondary roads. But House Bill 4965, by Rep. Rodney Wakeman (R-Saginaw), and HB 4966, by Rep. Andrea Schroeder (R-Oakland), eliminate the requirements to allocate the funding in a 75/25 split.
This comes in the wake of new asset management plan requirements that created asset mapping. The maps, approved by the State Transportation Asset Management Council, identify the conditions of roads and rank them. The flexibility will allow locals to allocate their resources in a manner consistent with need, instead of restricting the funds according to percentages.
The Pandemic Will Hit Local Government Pension Systems–Is Schoolcraft County Ready?
This article appeared in Bridge on May 2, it is being posted here with the authors' permission.
We still don't know how COVID-19 will alter human lives and institutions over the long term, but government finances may feel the effects of the pandemic for a long time. Part of this results from fiscal policies that defer today's hardships to the future. The pandemic's effects on local pension funding, especially, will be felt for years, but not necessarily right now.
Public pension funds are supposed to be prefunded. That is, when employees are working and earn their pensions, their employers set aside enough money to pay for the promised benefits. Those contributions are invested, the money grows, and then it is used to meet the monthly obligations due to retirees. The state constitution deems that pension benefits earned by employees are contractual obligations and prohibits them from being cut or eliminated.
Several risks can affect a pension system's future financial condition. These risks center around assumptions pension system managers make about future economic trends which they use to set employer contribution levels. Chief among these is investment risk, which is the risk that projected returns will differ from actual returns. The pandemic caused the value of investments held by local government pension systems to drop, along with the stock market. This will create a gap between what governments have saved and what they owe their retirees. Eventually, these shortfalls are reflected as liabilities that have to be made up.
Local governments were already carrying pension debt even before the recent market declines. The median local pension plan only has saved enough to pay for 69% of what employees have earned, and local governments would need a combined $8.3 billion to pay for the difference according to the state's retirement reporting site.
Many local governments also promise their employees other post-employment benefits in the form of health insurance. These governments use the same funding strategy: Set aside money today to pay for future expenses (in this case, insurance premiums for retirees). As with pensions, they were behind on OPEB funding before the market losses. According to the state, the median city had saved just 13% of the expected costs as of last year; collectively, all local governments would need another $5.8 billion to prefund these benefits.
When pension and OPEB obligations are underfunded, costs get deferred to the future. Employees already provided their services but some of the costs of compensating them must be paid by future taxpayers. Governments must allocate additional future revenues toward these costs, making fewer resources available for public services down the line.
There is no legal or constitutional requirement to offer these benefits, and some governments have transitioned to 401(k)-style benefits and health care savings plans, which prevent this kind of underfunding. Even so, many local governments still offer traditional pension plans, and they are responsible for operating them and fulfilling benefit obligations until the last beneficiary has died.
Governments will still struggle to pay for the market losses their pension plans have incurred in the pandemic. But the increased costs of new pension liabilities will not happen soon.
That's because pension funding mechanics defer recognizing losses (and gains) and even then, spread the pain over a number of years to make the required annual payments manageable.
For instance, the nonprofit Municipal Employees' Retirement System, which manages pension funds for over 700 local governments, has still not recognized the market gains in 2019, let alone 2020's recent losses. Recent market declines will not even affect local government finances if markets recover by year-end and meet their assumed 7.35% growth, though local government managers shouldn't adopt this Pollyannaish view.
If there are losses, it will still take some time before it affects local governments.
Those losses will also be recognized over five years, which is intended to prevent large one-year swings in pension contributions due to volatile market returns. And it's good that MERS recently shortened its smoothing policy from ten years to five years.
But, when the increased payments do hit, the pandemic's effects will be felt by budgets already harmed by the recession. Local government revenues — especially in the form of state revenue-sharing payments that rely on the sales and fuel taxes — will have taken a hit. Increased pension obligations will further strain budgets, though with luck, the pandemic will be over by the time pension systems require more cash.
But knowing that future pension payments will be higher, and that governments are obligated to make those payments, provides some clarity to a future fiscal picture currently clouded by the pandemic. The virus' effect on local government finances, like a lot of its other effects, will be smaller if the pandemic is shorter.
Craig Thiel is Research Director at Citizens Research Council
James M. Hohman is Director of Fiscal Policy at Mackinac Center for Public Policy